---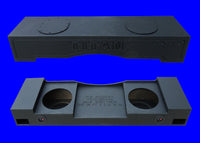 received box very fast, thanks, top quality box
Sounds great, but flimsy terminal mounts
Booming bass. I put 2 10 inch kicker Comp Rs in it and it sounds amazing. My only complaint is that the mounts on the inside for positive and negative are flimsy little tabs. I made it work and will likely never have to deal with them again now that it's put together. Overall great product
It's not that hard. Either solder your wire to the tab or the preferred way is to put a ring terminal on your wire and use the nuts on the back.
Slick looking box
Craftsman is top notch and I love supporting local businesses around my area. Highly recommended probably best on the market also with great turn around time.
Hammer Time
Put some Kicker CVX 10"s in this Box with a Kicker 1200 Watt Mono Block. This thing flat out Hammers!!
NISSAN TITAN 2-10" VENTED SUB BOX